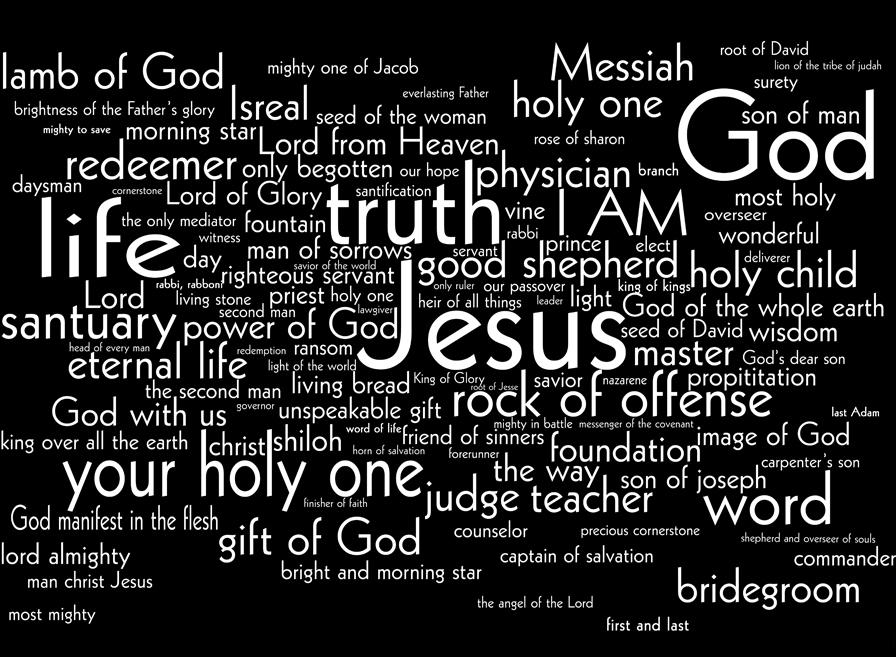 The first chapter of John's gospel is powerful in that it delivers 7 titles of Jesus. Last week we noted 4 of the 7 (THE WORD, GOD, LIFE, & LIGHT). This week we continue with three more titles of Jesus in John chapter 1.
7 Titles of Jesus in John chapter 1:
CHRIST: (v17)
"For the law was given by Moses, but grace and truth came by Jesus Christ."
This title, "the Christ," carries great significance.
Stong's definition; anointed, i.e. the Messiah, an epithet of Jesus:–Christ.
It is used over 300 times in the New Testament and means "the anointed one."
Andrew, the brother of Peter, went to him telling him that he had found the MESSIAH. [v41]
By divine revelation Peter recognized Jesus as the Christ [Mat 16:16]. Prophets foretold of His coming as the Messiah.
From "Christ" comes the name Christian," and "Christianity." By calling ourselves Christ-ones we are seeking to do His will by keeping His commandments.
"If ye love me, keep my commandments." [John 14:15]
What a sham it is when people call themselves 'Christian' without obeying & serving him.
LORD: (v23)
"He said, I am the voice of one crying in the wilderness, Make straight the way of the Lord, as said the prophet Esaias."
Lord is a name expressing His sovereignty. [cr. 1Tim 6:15] Is it any wonder then that Jesus asked; "And why call ye me, Lord, Lord, and do not the things which I say?" [Luke 6:46]
I can't tell exactly how Jesus is asking this. Is He saying it as if they're acknowledging Him as King? Or, is He indicating that they're calling on Him with much pleading for help? The context indicates the latter as He is discussing those lost in the final judgment. [cr. Matt 7:21-23].
In either case He is indicating how ridiculous it is to call on Him in your time of need after living a life rejecting His authority & position as the Son of God and the creator! [John 1:1]
LAMB OF GOD: (v29)
"The next day John seeth Jesus coming unto him, and saith, Behold the Lamb of God, which taketh away the sin of the world."
This last one drives home the point about who Jesus is to us.
He is the only worthy sacrifice, sent by God, to take away the sins of the world, you and I.
The Hebrew writer reminds us, "And almost all things are by the law purged with blood; and without shedding of blood is no remission." [Heb 9:22].
He also reminds us that there are no worthy sacrifices found on the earth, "For it is not possible that the blood of bulls and of goats should take away sins." [Heb 10:4]
Paul wrote that no human is worthy either, "As it is written, There is none righteous, no, not one:" [Rom 3:10].
All of this being true, there was no hope for mankind because of their sin. What is impossible with men is possible with God.
And so, the only remedy for our disobedience is the LAMB of GOD.
"Neither by the blood of goats and calves, but by his own blood he entered in once into the holy place, having obtained eternal redemption for us."       [Heb 9:12]
God's love is so great for us that He gave Himself for us.
"But God commendeth his love toward us, in that, while we were yet sinners, Christ died for us. Much more then, being now justified by his blood, we shall be saved from wrath through him. For if, when we were enemies, we were reconciled to God by the death of his Son, much more, being reconciled, we shall be saved by his life. And not only so, but we also joy in God through our Lord Jesus Christ, by whom we have now received the atonement." [Rom 5:8-10]
TRULY AMAZING! Let us consider these Titles of Jesus and walk worthy of wearing His Glorious Name.
—Spencer