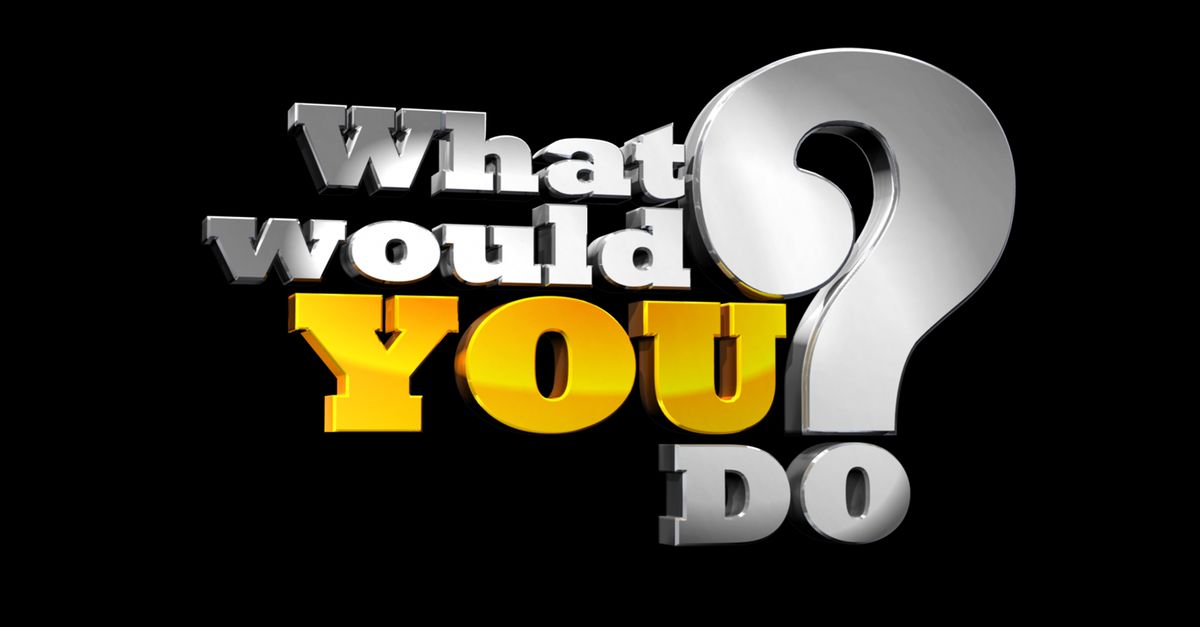 "And the LORD God planted a garden eastward in Eden; and there he put the man whom he had formed." [Gen 2:8]
There's a TV program called, "What Would you Do?" The premise is to create scenarios in public and film the reactions of innocent bystanders.
What if we took the same concept except, we used events from the Scriptures?
What Would You Do if…
You were in the Garden?
You were called to build an ark?
You were told to marry a harlot?
You were told to sacrifice a son?
You met Jesus by a well?
You were Peter by that fire?
You were standing by Stephen?
These are just a few of the People and events we will explore in this & future articles.

What would you do…
If you were in the GARDEN in Eden?
GOD had placed man in the Garden and was told to dress it and to keep it. [Gen 2:8] Having access to all the good fruit that God had made, What Would You Do? Would you view the work as being good, or would you view work as a necessary evil?
"Let him that stole steal no more: but rather let him labour, working with his hands the thing which is good, that he may have to give to him that needeth." [Eph 4:28]
Adam was ALONE in the Garden. What Would You Do if you were alone? How would you feel if after a search of all of creation that not a creature was found suitable for you? What Would You Do if no one was watching? Would you continue to be faithful? Would you slack up on your work?
"Blessed are those servants, whom the lord when he cometh shall find watching:" [Luke 12:37]
What Would You Do if you were RESTRICTED from just one tree? You're given everything else, but one tree, the tree of Knowledge of Good and Evil. [Gen 16-17]. Just two commands, one positive (do) and one negative (do not). What Would You Do? Would you be angry saying, 'I don't like being told what to do?' You have freewill. Why can't you do what you want? What Would You Do, realizing the penalty for disobedience?
"Let us hear the conclusion of the whole matter: Fear God, and keep his commandments: for this is the whole duty of man." [Ecc 12:13]
What Would You Do if the DEVIL appeared to you in the form of a Serpent? [Gen 3:1-5] What Would You Do if someone misquotes God's command? Would you put up with it?
[2Cor 11:1-4] Would you know that the original command had been changed? An addition was made.
"But of the tree of the knowledge of good and evil, thou shalt not eat of it: for in the day that thou eatest thereof thou shalt surely die." [Gen 2:17]
"But of the fruit of the tree which is in the midst of the garden, God hath said, Ye shall not eat of it, neither shall ye touch it, lest ye die." [Gen 3:3]
You've EATEN the forbidden fruit, now What Would You Do? Will you hide from God? How would you do that exactly? Where would you go, What Would You Do? Would your conscience try to excuse you or accuse you? Would you consider it sin, or would you call it a little thing?
"Whosoever committeth sin transgresseth also the law: for sin is the transgression of the law." [1John 3:4]
The last question is more troubling. What Would You Do if were NOT allowed to remain in paradise? Would you cry out that it's not fair? Would you put together a list of all the good things you've done trying to ignore or overlook your iniquity? Would you blame everyone else as they did?
"Many will say to me in that day, Lord, Lord, have we not prophesied in thy name? and in thy name have cast out devils? and in thy name done many wonderful works?"
[Mat 7:22]
What Would You Do?