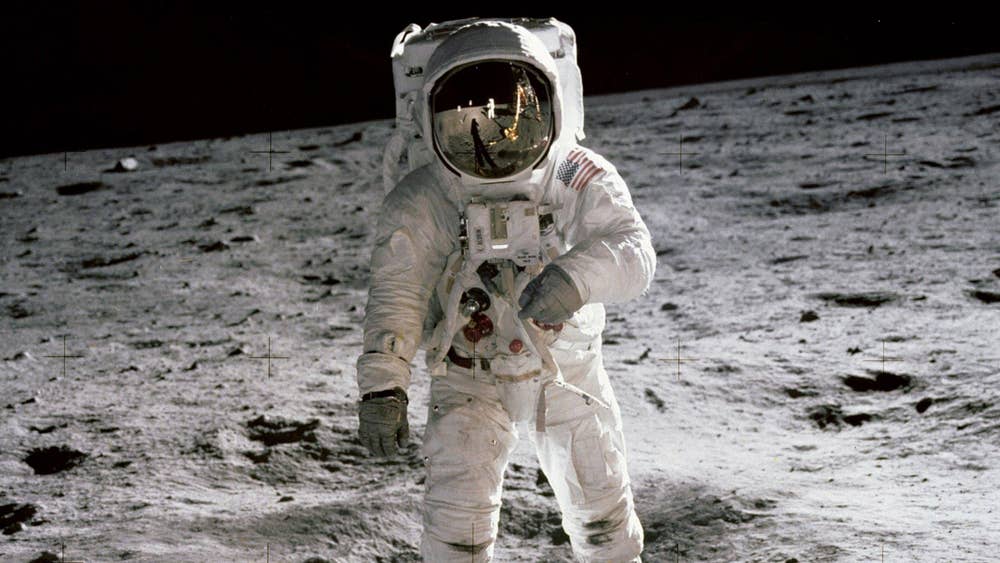 FIFTY YEARS AGO TODAY, TWO MEN SET FOOT ON THE SURFACE OF THE MOON. "One small step for (a) man, one giant leap for mankind." It was a moment of international attention with nearly 500 million people watching it on live TV.
Very little of our day draws that kind of unity or interest, nothing positive anyway. It was a time of national pride that got behind the accomplishment of a national goal. A goal set by President Kennedy during a speech in Houston Texas on September 12, 1962.
As fantastic as that accomplishment was, it wasn't the first time that man attempted to reach the heavens. As a matter of fact, the whole world got behind a movement to not only reach up into the stars, but attempted to reach into heaven itself. You know it best as the TOWER of BABEL.
THE STORY is found in Genesis 11:1-9, and goes like this: The whole world had one language and they tended to stay grouped together. One day, an idea developed saying, "let us build us a city and a tower, whose top may reach unto heaven; and let us make us a name, lest we be scattered abroad upon the face of the whole earth" [11:4].
There are 3 takeaways about the people that we can draw from this one idea:
PRIDE ruled their hearts when their primary goal was to make a name for themselves. This was an afront to God their Creator for He had already given them the top place among all the creation of the earth. Man was made in the image of God. Gen 1:27
ARROGANCE in that they thought they could prevent or otherwise thwart God's will and stay together. In Genesis 1:28 man was commanded to "fill the earth."
DISOBEDIENCE was the result of the first two. By building the tower, they were in willful disobedience to God. Sin of commission and the sin of omission. They added to and took away from God's word.
It doesn't go well for man when he seeks to disobey God. As the building program was under way, God saw what they were doing and put an end to it. It's interesting how He did it. Rather than destroy the tower, He simply confused their language so they could no longer effectively communicate. This got them back on the right track and they scattered all over the earth, abandoning their silly building scheme.
There are 5 things we can learn from this pivotal event:
BUILDING schemes of man, no matter how popular they are, will never get man into heaven. Jesus said that, "I will build my church" [Mat 16:18]. That is the only place where God will meet with us.
ALWAYS do what God commands, it's the only way. God gives us free will, but He also gave us commands to follow that will lead us back to him. We cannot even do good without His authority. [Mat 7:21-23; Is 59:2]
BODIES of FLESH cannot go into heaven. Only Spiritual bodies may, and that spiritual body is provided by God to those who are in Christ. [1Cor 15:50-58]
EARTH is only a temporary dwelling place, and no matter how successful we become, or how great a name we try to make for ourselves, the result of this life is death. Man has a tendency to plan only for his EARTHLY future. We ought to be mapping our lives into our ETERNAL future. It will either be in Heaven or it will be in Hell. These are the only 2 choices, and it is our choice. [Mat 25:31-46]
LANGUAGE UNIFIES. It can unify us for good or for evil. The breakdown of relationships comes from a failure to communicate. In a figure, we're not speaking the same language. Paul urged the Corinthians to; "that ye all speak the same thing, and that there be no divisions among you; but that ye be perfectly joined together in the same mind and in the same judgment." [1Cor 1:10; John 17:17]
The next time The Lord comes down to earth, it will be with His Holy angels to gather up His church, to destroy the earth and then the judgement. [1Thess 4:16-18] Will He find us "making a name" for ourselves, or will He find us doing His will? [Luke 12:43]
"For we must all appear before the judgment seat of Christ, that each one may receive the things done in the body, according to what he has done, whether good or bad." [2Cor 5:10]